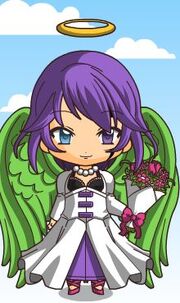 See also:
Main
Gallery
Quotes
Skills
Yasmine  Olephynas is the 27th character.She is the Antique element protector.She is a former student in the Bonkazoid academy
Apparence and Personnality
Edit
Apparence
Edit
Yasmine love enjoying white and pale shades.Her hair is lavender and short.Her eyes are blue and purple and she is wearing the Dappleteens tatoo.Her dress is white with purple ribbon and she have green wings.
Personnality
Edit
Yasmine is a person who afraids easily and a quiet person, thought she can downgrades to a very friendly person. 
Relationships
Edit
Yasmine have a wise range of friends. This range is normally composed of Pricillia and Nowleen. 
her pet is a snail named Suhime
Yasmine don't wan't to be involved in any romantic relation. When she had to open the doors of Romains Castle, she devlopped romantic feels for him and end up dating him secretly.
Name:Yasmie Olephynas
Age: 17
Birthday: August, 7
Race:Daplet
Stone:Opal
Likes:Angels,Cookies and Ball Gowns.
Dislike: Bad stuff, 
Height: 1,65 m
Unlocking
Edit
Beat Romain 5 times in Iklet village in Extreme.
or buy the item Heaven Queen Crown in the Premium Mall.