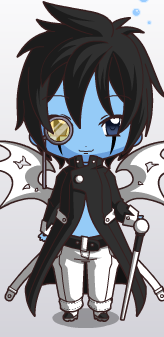 See also:
Main
Galleries
Quotes
Skills
Tairion is the 10th chraracter. He is the protector of Dark Dreams .He loves cookies and love to play with Gigi.He is generous and seems to be hated by Dania
Apparence
Edit
He has blue skin.He has black hair and a monocle.Some people think he is wearing the Dapleteens tatoo but is false.He wear white wings, a black vest,  white pants with faux fur.He also wearing Converse shoes.
Relationships
Edit
Tairion has many friends like Kaezen, Reshimi and Faime.
He have a pet seal named  Kittmini
None.
Name:Tairion Baydge
Age: 15
Birthday: February,1
Race: Deathtie
Likes:Cookies,Milk,Pizzas,Nights,Sleeping
Dislikes:Sun Shine, Fire,
Catchprase: More fast than his shade.
Unlockable?:Yes
Unlocking
Edit
By beating Zolar on Night Gates Pathway on Extreme.
or buying the item Badge of Shadows in the Premium Mall