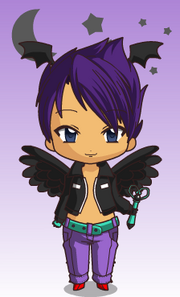 See also:
Main
Gallery
Quotes
Skills
Sailerion Garombe is the 28th character, he is the Key Spirits protector.
Apparence and Personality
Edit
Apparence
Edit
He have darkish skin like his sister, Specktray but lighter.He have purple hair half-dyed with black.He have a sweat and purple pants and red boots.He have medium-sized black wings, that make him a Steel Wing.
Personality
Edit
Sailerion is a quiet person but a very friendly one.He have a gain for curiosity and that doesen't bother if his sister is popular since he have a popular blog called Night Caster.
Relationships
Edit
He is Specktray older brother.
Besides Specktray, Widonna and Faymon are Sailerion's "BFF's"
His pet is a peacock named Flymna
He have a crush on Reshimi
Name:Sailerion Garombe
Age: 18
Birthday: September,1
Race:Steel Wing
Like:Specktray,Spells.Discover things, Making scoops
Dislike:Ordinary things,Slow people.
Height: 1,7 m
Unlockable:Yes
Stone:Amethys
Unlocking
Edit
???