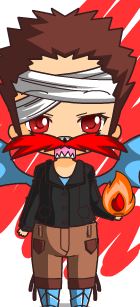 Rucolus De Mustasio or Headmaster Mustasio is the Headmaster of Rameen High he is cruel with everybody exept  
Reshimi Nao
,He is a
Dragon
in real specie who breathe fire.
Apparence
Edit
He has brown hair with a beard and red bad eyes.
Relationships
Edit
He is Handus 9x grandson
His friends is Gomma Larya.
He is the Last boss of Fire Rameens Tower at Rameen High.( the last dungeon)
He also the boss of Danger Forest Gate in Valafy Ladoratory.