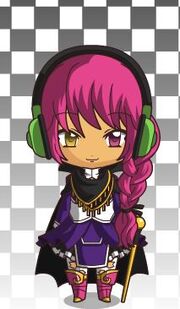 See also:
Main
Gallery
Quotes
Skills
Reshimi Nao is the 17th character . She is one of the Shine Gold Protectors , She is the headmaster granddaughter.
Apparence
Edit
She have pink hair with bronzed skintone, yellow and pink eyes, purple dress with a black scarf and cape and pink and yellow boots.
Relationships
Edit
Reshimi friends are Nowleen and Rozoelle.
Her pet is a gold-winged wolf named Astrimiazor
She have romance with no one
Name: Reshimi Nao
Age: 18
Likes:Shine Gold,Gold,Rucolus de Mustasio,win,Stars,Nature
Dislikes:People who thinks that rucolus is evil,,Black Magic
Stone:Turquoise 
Element:Shine Gold
Height:  6 feet ( 1,80)
Birthday: August, 18
Race: Shine Gold
Catch Phrase: Shine Gold, let me go, let me go!
Favorite Subject:?
Lest Favorite Subject:?
Unlocking
Edit
Go to Shine Gold Campement
or Buy the item Tablet of Spirits in the Premium Mall