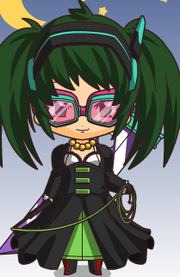 See Also:
Main
Gallery
Quotes
Skills
Pricillia Haze is a robot from the future.She is Protector of Core, also known as Lazer Magic.She is shy and curious girl.She hate Sparrow , cause she is mean  to Pricillia.
Apparence
She has green hair, a analyzer helmet,green eyes.She have a black and green dress with frills on it.She also have black and red boots.
Relationships
Friends
She is Friend with Dania , Kaezen and Kenza.
Pet
Her pet is a Robotic coyote named  Robo Attick
Romance
She is not in romance with anyone
Profile
Name:Pricillia Haze
Age: Unknown
Birthday: Unknown
Race: Robot
Height: 1,70 m
Likes: Computers,Technology,,Battles
Dislikes:Wood,Apples,Old Things,Peace,Sparrow and Hunter.
Trasformation:Plasma Analyzer >Core Analyzer
See:Plasma Analyzer
See:Core Analyzer
Unlocking
Pricillia is a base character and can't be unlocked.
Trivia
Pricillia skill's and element and personnality is mostly based on the Elsword character Eve.
She is the only character right now on GSH to do not have a dragon race.