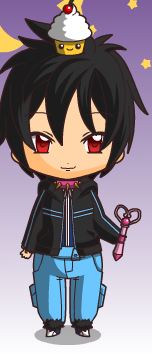 See also:
Main
Gallery
Quotes
Skills
Laggën De Harrenzi is the Protector of Magic Poison.He is funny, kind and frolicsome.He love to do oudoor game and he is Nature-friendly.
Apparence
Edit
He have black hair withe red eyes.He have a black hoodie and blue pants.
Relationships
Edit
He is friends with Sayn,Kaezen and Rozoelle.
He have a pet cat named Coopozolie
He is not interessed with anyone now.
Name:Laggën De Harrenzi
Age: 18
Birthday:January , 16.
Race:Daplet
Likes: Leaves,Bugs,Salads,Country Music, his cat.
Dislikes:Faime,Fire,Pollution,Meat ( especially BBQ),Pop music
Catch Phrase:  Having Ecofriendly attidues make a Eco-friendly Friendly Friend!
Stone: