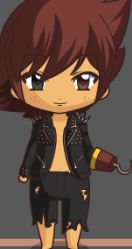 See also:
Main
Gallery
Quotes Skills
Kaezen Tich is the Protector of Moutain Sands.He is kind, playful and generous.He love Summer but hate Winter.
Apparence
He has brown hair, heterochromia  eyes,He wearing a spike vest and scratchy pants.He do not wear shoes.
Relationships
Friends
He is Friends with a lot of people, Sayn,Laggen,Faime,Rozoelle, and even Sparrow
Pet
His pet is a Cobra named  Starpiee
Romance
He is in Romance with Gigi.
Profile
Name:Kaezen Tich
Age: 17
Birthday: March 10
Catch Prase: Gold Sand are shiny as me.
Height: 1,699 m
Likes:Sand,Summer,Dry places,Sunny Days.
Dislikes:Kenza,Winter,Rivality,Haideen,Rainy Days,Snow.
Stone:
Weapon:Hook
Element:Mountain Sands
Trivia
Gallery