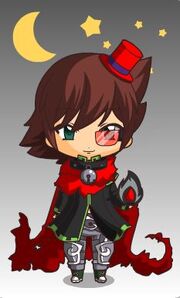 See also:
Main
Gallery
Quotes
Skills
Element
Harvey Lansonet is the 26th Character, he is the protector of Sorcerer Spirits .
Apparence and Personnality
Edit
Apparence
Edit
He have brown hair with a purple-burgundy ending,he have also green eyes.He have a black vest with green neon and silver pants.He have a red scratchy cape.
Personnality
Edit
Harvey is a person that love using witchcraft for anything,he is playful and someone who is realy open and a kind friend despite he is a cheater sometimes.
Reationships
Edit
Harvey best and bigger friends is Yazmine, since they love each other, but he is also seen with Saleirion and Faymon.
His pet is a echidna named Barboon
Since he is a dark person, he is in love with the opposite, Yazmine.
Name:Harvey Lansonet
Age:21
Birthday: April,21
Race:Deathtie
Likes:Witchcraft,Chemistry,Darkness
Dislikes:Lights,reading,Vampons
Height: 1,82m
Stone:Epidote
Unlockable:Yes
Unlocking
Edit
Correct all the potions  in all levels on Chemis-tro-matic in Hard or harder.
or buy the item ??? in the Premium Mall