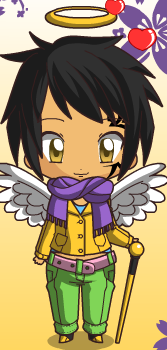 See also:
Main
Gallery
Quotes
Skills
Faymon Hapistairs is the Protector of Bronze Lights .
He is a Dapleteen.He have black hair and  gold eyes.He wears a yellow hoodie and green pants.He have also a scarf and bronze wings.
Relationships
Edit
He is friends with Nowleen,Spektray,Mikky
His pet is a winged mamoth named Plook
He is in romance with Nowleen
Age: 6050 (existed way before Goldie era)
Race: Daplets ( He got the Dapleteen tatoo when Dapple discover him)
Likes:Nowleen,Dapple,Cheese,Apple,Pies,Magic,
Dislikes:Strawberries,Valdeen,Black Magic,
Birthday: December,28
Stone:Kunzite
Element:Bronze lights
Height:1,780 m
Unlocking
Edit
Making all the OP's quests to have the Over power essence;
Reach Grade 7 and go to Sammi Maritime Grounding to make the quests: Follow the Path of Bronze and Bronze Deposits search.
or buy the item Bronze Feather essence at the Premium mall